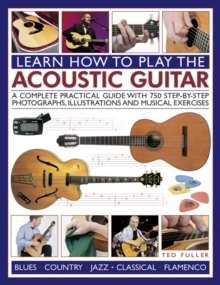 Learn how to play the acoustic guitar : a complete practical guide with 750 step-by-step photographs, illustrations and musical exercises
178019319X / 9781780193199
Stock expected by 17/04/2021
28 cm 160 pages : illustrations (black and white, and colour)
Originally published: as part of The complete illustrated book of the acoustic guitar by James Westbrook and Ted Fuller. Wigston: Lorenz Books, 2012.
This is a complete practical guide with 750 step-by-step photographs, illustrations and musical exercises.
It explains all the basic techniques of guitar playing, from tuning and strumming to double stopping and improvising.
It includes a chordfinder of 300 essential guitar chords.
It shows you how to master blues, country, jazz, classical, gypsy jazz, Latin jazz and flamenco, as well as novel party tricks.
It features fascinating information about influential acoustic guitar heroes, such as Robert Johnson, Django Rheinhardt, Julian Bream and Bob Dylan.
Acoustic guitars are very popular with beginners, and this book will help musicians to master the instrument, from buying the right guitar and learning the necessary chords to trying out advanced techniques.
It introduces the different genres of music played using the guitar, such as blues, country, jazz, classical and flamenco, and features a helpful chordfinder to help you understand the guitarist's basic vocabulary. With expert step-by-step instructions from professional guitarists, 300 chords and over 750 photographs and musical exercises, this comprehensive manual is a must for anyone interested in learning this universally loved instrument.
BIC: