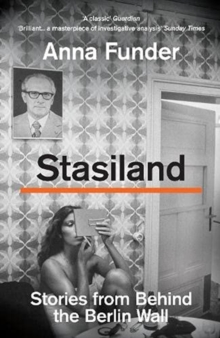 Stasiland : stories from behind the Berlin Wall
1783787341 / 9781783787340
Reprint. Originally published: 2003.
WINNER OF THE SAMUEL JOHNSON PRIZE FOR NON-FICTIONIn this classic work, Funder brings us the extraordinary stories of those who lived in East Germany.
She meets Miriam, condemned as an enemy of the state at sixteen, hears the heartbreaking story of Frau Paul, who was separated from her young baby by the Berlin Wall, and gets drunk with the legendary 'Mik Jegger' of the East, once declared by the authorities - to his face - to 'no longer to exist'. And she meets the Stasi themselves - men who spied on their families and friends - who are still loyal to the vanished regime and longing for the return of Communism. Stasiland is a gripping portrait of the horror and the absurdities of state oppression.
In a world of total surveillance, its celebration of resilience and resistance is as potent as ever. 'Meticulous and compassionate... a heroic act of listening' London Review of Books
BIC:
1DFGE East Germany, DDR, 3JJP c 1945 to c 2000 (Post-war period), HBJD European history, HBLW3 Postwar 20th century history, from c 1945 to c 2000, HBTB Social & cultural history