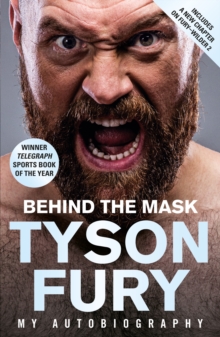 Behind the mask : my autobiography
1787465063 / 9781787465060
304 pages : illustrations (colour)
Reprint. Originally published: London: Century, 2019.
** TELEGRAPH SPORTS BOOK OF THE YEAR **DOUBLE WINNER: BEST AUTOBIOGRAPHY & BEST OVERALL SPORTS BOOK OF 2020INCLUDES A NEW CHAPTER ON WILDER VS FURY 2________________________________ 'Incredible stories... you don't have to be a boxing fan to enjoy it' SCOTT MILLS, BBC RADIO 1'One of sport's most heart-warming stories' SUNDAY TIMES, SPORTS BOOK OF THE YEAR'A must-read for any boxing fan.' WORLD BOXING NEWS'If you know someone who is a fan of the People's Champion then they'll love this.' TALKSPORT XMAS GIFT GUIDEThe extraordinary story of the rise and fall and rise again of Tyson Fury... THE GYPSY KING. A Manchester lad from Irish Traveller stock, born three months premature and weighing just a pound at birth, Tyson (named after his father's boxing hero) grew up to become one of the most unlikely heavyweight champions in history.
This 'dream come true' soon turned to nightmare, however, as alcohol and cocaine abuse took hold and Tyson was stripped of his titles.
What followed was the darkest moment of his life - detailed in this book for the first time - in which he came within seconds of ending everything. THE PEOPLE'S CHAMPION. Like all the greatest stories, though, there is redemption and Tyson defies all the odds and literally drags himself to his feet. 10 million people around the globe watched Fury fight Wilder in the biggest fight of the boxing calendar.
Speaking candidly about his struggles with mental health, this is Tyson Fury as you have never seen him before. A BRITISH ICON. ________________________________ Behind the Mask is an unflinching story from the greatest boxer of our time and a man who has demonstrated strength of a very different kind by conquering his demons. ________________________________ 'It's a great book, if I could read, I'd buy it' BILLY JOE SAUNDERS, WBO World Super-Middleweight Champion'I didn't believe boxers could be role models, but Tyson Fury has changed my mind...
This 30-year-old Mancunian has made us all think twice about the possibilities of redemption.' SIMON KELNER, INDEPENDENT'Tyson Fury has become Britain's most unlikely inspirational figure... the sight of a broken Fury caught a mood with the public.
Never was the epithet "People's Champion" more apt' RON LEWIS, THE TIMES'Tyson Fury is an amazing real-life champion' SYLVESTER STALLONE, star of Rocky'You may not have any interest in boxing at all and you will find this story about Tyson's life fascinating' BBC RADIO 5 LIVE'An unusual, heartening story, nicely told.
There is much to amaze and admire' SUNDAY TIMES
BIC: