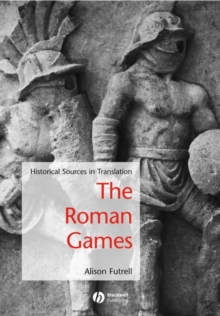 Bread and circuses : a sourcebook on the Roman games
1405115688 / 9781405115681
Stock expected by 02/02/2020
postgraduate Learn More
research & professional
undergraduate
This sourcebook presents a wealth of material that casts light on the rich tradition of Roman spectacle, with special focus on gladiatorial combat and chariot racing.
Drawing on literary descriptions, inscriptions, reliefs, mosaics, and archaeological features, "The Roman Games" offers a range of political, social, and religious perspectives.
Featuring the accounts of eyewitnesses and participants, the book reconstructs the experience of "a day at the games" and the expectations of "the life of a gladiator." The editor provides historical framework and analytical commentary for each of the entries, as well as a glossary of technical terms and a timeline to give additional context for students and general readers.
BIC:
1QDAR Ancient Rome, HBJD European history, HBLA Ancient history: to c 500 CE