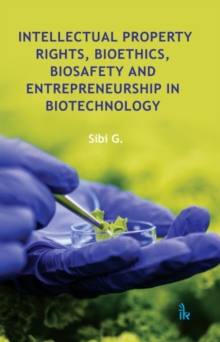 Intellectual Property Rights, Bioethics, Biosafety and Entrepreneurship in Biotechnology
9386768747 / 9789386768742
This book is divided in 4 parts. Part-I is devoted to issues of intellectual property rights (IPRs).
It is intended as a primer for those who are involved or associated with understanding the needs for improving the integrity of scientific documentation.
Part-II addresses the technical aspects of biosafety in research.
Part-III is oriented to bioethics. It describes emerging legal, social and policy issues pertaining to biotechnology and intellectual property laws.
Part-IV deals with entrepreneurship activities in biotechnology.
It also outlines the opportunities in the field of biotechnology, ethical considerations, key issues and practical matters for entrepreneurs in biotechnology. Salient Features:Provides basic and comprehensive knowledge pertaining to intellectual property rights. Provides information on intellectual property management concepts and practical implementation to those needing such guidance. Provides information on means of controlling and monitoring the release of biohazardous materials. Will help the readers to understand the ethical, legal and social issues generated by biotechnology. Differentiates between innovation and entrepreneurship in the biotechnology context.
BIC:
KNDH1 Biotechnology industries, LNR Intellectual property law, TCB Biotechnology