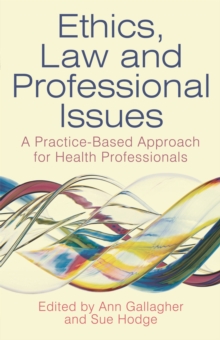 Ethics, law and professional issues : a practice-based approach for health professionals
0230279945 / 9780230279940
This practice-based textbook explores the ethical, legal and professional issues that characterise the field of healthcare.
From seeking consent to upholding patient confidentiality, it examines a broad range of professional dilemmas from everyday practice.
Detailed scenarios and engaging discussions help the reader understand how best to balance ethics, the law and professional codes of conduct in order to provide the best standards of care. Whether studying on an undergraduate nursing, midwifery or healthcare related programme or an experienced practitioner, this is essential resource for people working in healthcare looking to develop an ethically, legally and professionally sound approach to practice.
BIC: