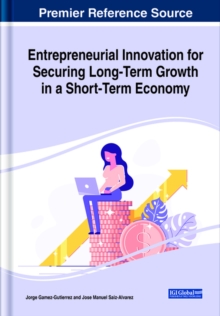 Entrepreneurial innovation for securing long-term growth in a short-term economy
1799835685 / 9781799835684
A fundamental process for a company to achieve stable growth levels over time in a highly competitive economy is the ability to improve, adapt, and overcome a variety of challenges, whether they be internally or externally based.
Therefore, being capable of understanding how any operational changes or improvements impact consumers must likewise be taken into consideration.
Entrepreneurial Innovation for Securing Long-Term Growth in a Short-Term Economy is a collection of innovative research on the methods and applications of corporate decision making on the overall success of a company in the long term.
While highlighting topics including organizational values, trust management, and social entrepreneurship, this book is ideally designed for entrepreneurs, executives, business consultants, researchers, industry professionals, and students who want to improve their understanding of the strategic role of entrepreneurial innovation at different levels defined by globalized markets inserted into the information and knowledge society.
BIC: