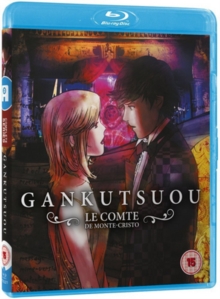 Blu-ray (Blu-ray / Box Set)
(15) Suitable for 15 years and over.
All 24 episodes of the Japanese anime series loosely based on 'The Count of Monte Cristo'.
Set in the year 5053, the futuristic story follows Viscount Albert de Morcerf (voice of Jun Fukuyama), the son of a Parisian general, as he travels with his friend Franz (Daisuke Hirakawa) to a festival in Luna, where they meet the noble Count of Monte Cristo (Jouji Nakata).
The episodes are: 'At the End of Our Travels, We Meet', 'Until the Sun Rises On the Moon', '5/22, Tempest', 'Mother's Secret', 'Do You Love Your Betrothed?', 'Her Gloom, My Gloom', 'The Secret Nectar of the Flower Garden', 'A Night in Boulogne', 'I Had a Dream the Colour of Darkness', 'A Letter from Edmond', 'Engagement, Broken', 'Encore', 'Haydee', 'Wandering Heart', 'The End of Happiness, the Beginning of Truth', 'Scandal', 'Confession', 'Duel', 'If I Had Become Unlike Myself', 'Farewell, Eugénie', 'The True Identity of the Nobleman', 'Counterattack', 'Edmond Dantès' and 'By the Seashore'.