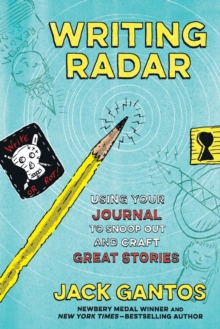 Writing radar : using your journal to snoop out and craft great stories
1250222982 / 9781250222985
With the signature wit and humor that have garnered him legions of fans, award-winning author Jack Gantos instructs young writers on using their "writing radar" to find story ideas in their own lives.
Charting his own misadventures as an adolescent writer, Gantos inspires readers to build confidence and establish good writing habits as they create, revise, and perfect their stories.
Pop-out text boxes highlight key tips, alongside dozens of Gantos's own hilarious illustrations and original stories.
More than just a how-to guide, Writing Radar is a celebration of the power of storytelling and an ode to the characters who - many unwittingly - inspired Gantos's own writing career.
BIC:
YQCS Educational: English language: reading & writing skills