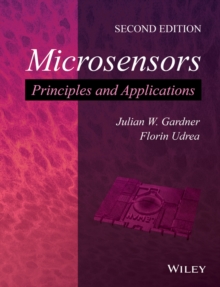 Microsensors : Principles and Applications (2nd Edition)
0470850434 / 9780470850435
Professional & Vocational Learn More
Postgraduate, Research & Scholarly
Undergraduate
Essential update on the development of new processing, packaging and assembly methodologies for microsensor devices, with new coverage on system on a chip and laboratory on a chip The miniaturisation of sensors has been made possible by advances in the technologies originating in the semiconductor industry, and the emergent field of microsensors has grown rapidly over the past ten years.
This book updates the successful first edition (published in 1994) to cover the fundamental principles, developments and applications of microsensors.
Two new chapters will be included and will provide coverage of both CMOS device processing technologies and smart sensors, in particular BioMEMS and the system-on-chip, lab-on-a-chip, and noise-on-a-chip.
Other new sections will update the treatment of optical and magnetic sensors, MOEMS and smart sensor interfacing.
Worked examples will be included to illustrate key processes and applications.
The end-of-chapter problems will be revised and updated.
This is an increasingly important area of research and development.
Microsensors are a growing aspect of Microelectronics courses at final year undergraduate and postgraduate level. A thorough update of the well-received first edition is timely. * Provides a timely update of a classic reference on this increasingly important field * Presents an introduction to sensors and measurement systems and the processing of materials for microsensor fabrication * Comprehensive coverage of thermal, magnetic, optical, mechanical, chemical and biological microsensors * Updated sections highlighting the development of new processing, packaging and assembly methodologies for microsensor devices * New chapter charting the evolution of the smart sensor and microsystem, with coverage of system on a chip and laboratory on a chip
BIC: