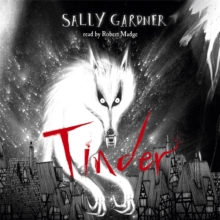 1409151018 / 9781409151012
Usually dispatched within 2 weeks
1 online resource (265 pages) : illustrations (black and white, and colour)
Reprint. Description based on print version record. Originally published: 2013.
Otto Hundebiss is tired of war, but when he defies Death he walks a dangerous path.
A half beast half man gives him shoes and dice which will lead him deep into a web of dark magic and mystery.
He meets the beautiful Safire - pure of heart and spirit, the scheming Mistress Jabber and the terrifying Lady of the Nail.
He learns the powers of the tinderbox and the wolves whose master he becomes.
But will all the riches in the world bring him the thing he most desires?Fairy tales are often the cruellest stories of all; in this exquisite novel Sally Gardner writes about great love and great loss. Read by Robert Madge. Robert Madge is a young actor from Warwickshire. He attended the Sylvia Young Theatre School and is currently (2013) a pupil at Ashbourne College. One of his first roles was to perform in Matilda the Musical and has since then had roles in Les Miserables, Oliver and Mary Poppins. Previous audio readings include Maggot Moon by Sally Gardner. (P)2004 Orion Publishing Group.Ltd
BIC:
5AN Interest age: from c 12 years, YFH Fantasy & magical realism (Children's / Teenage), YFM Romance & relationships stories (Children's / Teenage)