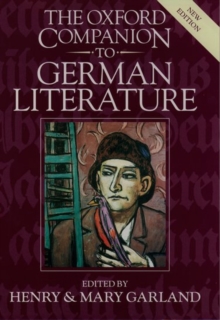 The Oxford companion to German literature (3rd ed.)
0198158963 / 9780198158967
Usually dispatched within 4 weeks
This new edition of Mary and Henry Garland's classic Oxford Companion to German Literature substantially revises and extends its coverage, making an invaluable reference work available to a new generation of readers.
Designed to be a reliable source of information on the whole sweep of literature from German-speaking countries from the eighth century onwards, the Companion now comes right up to the mid-1990s, including recent works such as Gunter Grass's controversial novel about the unification of East and West Germany, Ein weites Feld (1995).
The entries, arranged in a single alphabetical sequence, cover authors and their major works, as well as historical, intellectual, and cultural backgrounds.
For this new edition much of the original material has been thoroughly reworked in the light of up-to-date scholarship, and many completely new entries have been added, allowing improved coverage of the twentieth century, general topics, and women writers of all periods. The Companion's unrivalled historical coverage and depth of information - on subjects as various as Kafka and Kleist, Werther and Christa Wolf, Nietzsche and the Nibelungenlied, Jung and Jelinek, Rilke and Die Reformation - makes it an indispensable reference book for everyone with an interest in the literature and literary culture of the German-speaking world.
BIC:
2ACG German, DSB Literary studies: general, GBC Reference works