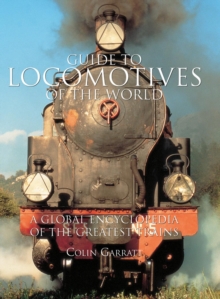 Guide to locomotives of the world : a global encyclopedia of the greatest trains
0857233726 / 9780857233721
Usually dispatched within 2 weeks
30 cm 128 pages : illustrations (colour)
Reprint. Originally published: London: Southwater, 2000.
This fact-packed guide features some of the most influential, famous and beautifully designed trains of the last 50 years.
With examples taken from Britain, Europe, the former Soviet Union, North and South America, the Middle East, India, China, the Pacific Rim, Australasia and Africa, the book presents succinct history of global locomotive technology.
Detailed specification boxes list each train's builder, client, gauge, class, axle arrangement, dimensions, rating and speed.
Packed with 400 dynamic photographs and illustrations, this volume will appeal to train lovers and trainspotters the world over.
BIC: