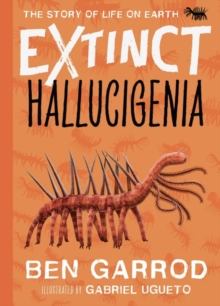 Hallucigenia
Part of the Extinct series
1838935266 / 9781838935269
23 cm 108 pages : illustrations (black and white, and colour)
Illustrations on lining papers.
TV scientist Ben Garrod presents the biggest extinction events ever, told from the point of view of evolution's superstars, the most incredible animals ever to swim, stalk, slither or walk our planet.
Whether you're 9 or 90, his unique exploration of the most destructive, yet most creative, force in nature makes top level science fun.Here are the superstars of the story of life, from the super-weird to the super-ferocious.
Usually a species has 10 million years or so of evolving, eating, chasing, playing, maybe doing homework, or even going to the moon before it goes extinct. Hallucigenia was a super-weird, spiky, armoured worm that lived 450 million years ago.
Scientists were, at first, unsure of which way round it went, and which way up.
But here you will discover all Hallucigenia's secrets: where it lived, what it ate, why it was so weird and why it is so important in the story of life. Collect all eight books about animals we have lost in mass extinctions caused by asteroids or mega-volcanoes, clashing continents and climate change. Also includes:* Past brought to full-colour life by palaeoartist Gabriel Ugueto* Ask an Expert contributions from leading scientists* Glossary and pronunciation guide'Eye-opening science with striking artwork reveals our lost creatures' Sunday Times 'Best Children's Books for Summer 2021'
BIC:
5AK Interest age: from c 9 years, YNNA Dinosaurs & prehistoric world (Children's / Teenage)