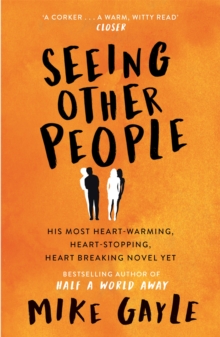 Seeing other people
1444708643 / 9781444708646
Stock expected by 26/05/2022
Reprint. Originally published: London: Hodder & Stoughton, 2014.
From My Legendary Girlfriend to Turning Forty, Mike Gayle's bestselling novels have taken his millions of readers through many key times for the modern man - friendship, courtship, stag weekends, marriage, work, holidays, significant birthdays - but SEEING OTHER PEOPLE is perhaps his most heart-warming, heart-stopping, heartbreaking novel yet. Joe Clarke is about 78% sure he's just had an affair.
Well, that is the beautiful office intern in bed next to him... But, if Joe really has just cheated, why can't he remember anything about it?
Confused but mortified Joe vows to be a better husband and father.
Until his wife Penny puts two and two together and leaves him. Devastated, Joe will do anything to win his family back. But when he realises that the key to saving his marriage lies in the hands of the mean-spirited ghost of his least favourite ex-girlfriend, Joe knows he's in real trouble.
SEEING OTHER PEOPLE is a hilarious and bittersweet novel about love, parenthood and fidelity and how easy it is to get lost on the way to your own happy ending.
BIC: