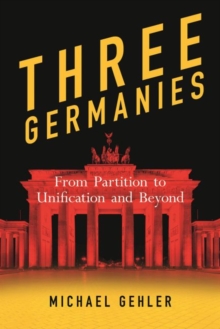 Three Germanies : from partition to unification and beyond (Second expanded edition)
1789143357 / 9781789143355
24 cm 352 pages : illustrations
Translated from the German.
Following the defeat of the Third Reich in 1945, Germany has experienced recurring turmoil and reinvention.
In this ambitious book, Michael Gehler explores the political path Germany has taken since the Yalta Conference, observing the different Germanies against the background of the Cold War, European integration, and international relations.
Written from an independent perspective, it provides a valuable assessment of our own times, as he shows how the three Germanies (Bonn, Pankow, and today's "Berlin Republic") sought to establish governments that could create stable states.
BIC: