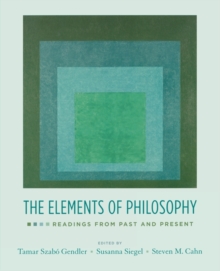 The elements of philosophy : readings from past and present
0195335422 / 9780195335422
Postgraduate, Research & Scholarly Learn More
Undergraduate
The Elements of Philosophy: Readings from Past and Present is a comprehensive collection of historical and contemporary readings across the major fields of philosophy.
With depth and quality, this introductory anthology offers a selection of readings that is both extensive and expansive; the readings span twenty-five centuries.
They are organized topically into five parts: Religion and Belief, Moral and Political Philosophy, Metaphysics and Epistemology,Philosophy of Mind and Language, and Life and Death.
The product of the collaboration of three highly respected scholars in their fields - Tamar Szabo Gendler, Susanna Siegel, and Steven M.
Cahn - The Elements of Philosophy also includes introductions from the editors, explanatory footnotes, and aglossary.
BIC:
CFA Philosophy of language, HPCA Western philosophy: Ancient, to c 500, HPM Philosophy of mind, HPQ Ethics & moral philosophy