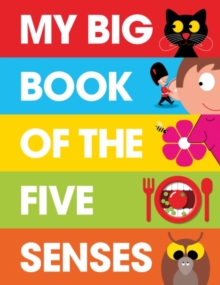 My big book of the five senses
1908473118 / 9781908473110
29 cm 1 volume (unpaged) : chiefly illustrations (colour)
What feels nice to touch? Is it a fluffy puppy or a tickly feather? Can you hear a bee buzzing or your heart beating? Or enjoy the smell of freshly cut grass or flowers? Do you know the difference between bitter and sour? Do you prefer the taste of something salty or sweet?
Do things look different upside down or through a magnifying glass?
What can you see in the clouds? Embark on a voyage of visual and sensory discovery with this gentle introduction to the five senses.
No flaps, scratch 'n sniff, buttons that make sounds - just delightfully suggestive pictures packed full of ideas for discussion and learning!
Ideal for reading with an adult, in class or at home. Five separate titles for each of the senses are also available by Patrick George.
BIC: