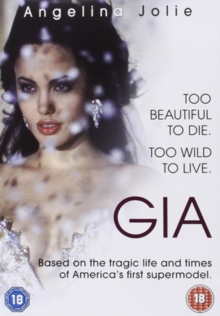 French, Dutch, Croatian, Czech, Danish, Finnish, Greek, Hebrew, Norwegian, Polish, Romanian, Slovenian, Swedish, Turkish
(18) Suitable for 18 years and over.
TV movie based on the true life story of model Gia Marie Curangi.
After leaving her troubled family background in Philadelphia for the bright lights, big city of New York, Gia (Angelina Jolie) is soon picked up as a model and immerses herself in the heady world of fashion and glamour as a distraction from her personal demons.
But when her best friend and surrogate mother-figure Wilhemina Cooper (Faye Dunaway) dies, Gia is once again left unsupported and falls into heavy drug use, a move that will eventually destroy her at the age of 26.