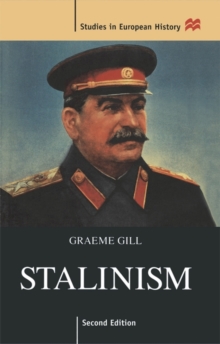 0333672291 / 9780333672297
Stock expected by 24/11/2019
Drawing on research based on access to recently-opened Soviet archives, this revised edition provides a thematic account of the nature of Stalinism.
The book surveys the arguments about the origins of the Stalinist phenomenon and discusses the way in which the different faces of Stalinism (economic, social, cultural and political) changed over time.
It concludes that the fall of the USSR was connected to the nature of Stalinism.
BIC:
1DVU Former Soviet Union, USSR (Europe), 3JJG c 1918 to c 1939 (Inter-war period), 3JJH c 1939 to c 1945 (including WW2), 3JJP c 1945 to c 2000 (Post-war period), 4KL Designed / suitable for A & AS Level, HBJD European history, HBLW 20th century history: c 1900 to c 2000, JPFC Marxism & Communism