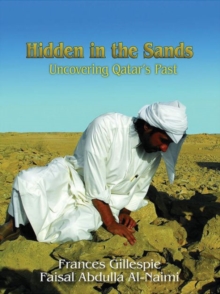 Hidden in the sands : uncovering Qatar's past
1909339067 / 9781909339064
28 cm 48 pages : illustrations (black and white, and colour), maps (colour)
General (US: Trade) Learn More
Children / Juvenile
The first book of its kind to be published for a general readership from youngsters upwards, Hidden in the Sands: Uncovering Qatar's Past is the fascinating, fun and educational story of Qatar's heritage and the exciting discoveries being made by archaeologists.
This informative and delightful book is published through the generosity of Maersk Oil as part of its programme to support education and unlock Qatar's history and heritage.
Hidden beneath the sand and sea and revealed on rocks are the clues which explain why this ancient land has been such a key region throughout history.
Here you can follow the detective work of archaeologists and discover Qatar's rich past.
In conjunction with a fully interactive website and also available in an Arabic edition, Hidden in the Sands describes in words and pictures the treasures uncovered by archaeologists, the methods they use, and the significance of their discoveries.
Today, using state-of-the-art technology for excavation, dating and conservation, teams of experts are working all over Qatar to reconstruct its past. Hidden in the Sands is fully illustrated with photographs, maps and diagrams, and embellished by the vivid and evocative illustrations of the artist Norman MacDonald.
Told simply and with in-depth and up-to-date detail, it leads readers through the fascinating world of archaeology.
Like reconstructing an earthenware jar from a hundred little shards, this work pieces together the fragments of the past to produce a complete and beautiful whole.
BIC:
1FBXQ Qatar, HDDC Middle & Near Eastern archaeology, YNH History & the past: general interest (Children's / Teenage)