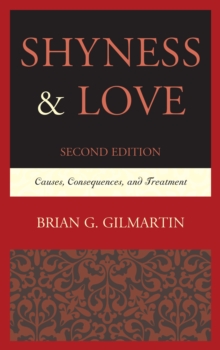 Shyness & love : causes, consequences, and treatment (Second edition)
0761865578 / 9780761865575
Shyness & Love covers the only major study conducted to date on social anxiety disorder as it is manifested in informal, unstructured, male/female dating and courtship situations.
It focuses on the causes-both biomedical as well as situational-of "love-shyness" and the consequences for those afflicted with it.
Gilmartin also discusses promising treatment modalities and what schools and communities can do to prevent severe love-shyness from developing in the first place.
Shyness & Love examines the early family life as well as the peer group interactions of love-shy men.
The book provides many statistical comparisons between the sampled love-shys and a comparison group of non-love-shy males of normal (but not superior) social self-confidence levels.
These statistical comparisons allow for some informed speculations regarding the numerous interacting causes that underlie social phobia in informal, unstructured, heterosexual social situations.
These statistical comparisons also provide the reader with some powerful suggestions regarding ways the American social structure (e.g., schools, family life, and communities) might be rearranged so that severe and intractable forms of love-shyness would never have an opportunity to develop in growing boys and teenagers in the first place.
Since the publication of the first edition of this book, it has been determined that as many as forty percent of men afflicted with love-shyness are simultaneously comorbid for Asperger's Syndrome, also known as high-functioning autism.
As many as half of all love-shy males are comorbid for the "male lesbian syndrome," sometimes also referred to as the "passive, non-competitive male syndrome." This second edition contains a new foreword that presents the latest findings in love-shyness research.
It is more concise than the original Shyness & Love, yet retains the most significant chapters.
BIC:
JFSJ2 Gender studies: men, JHBC Social research & statistics, JHBK Sociology: family & relationships