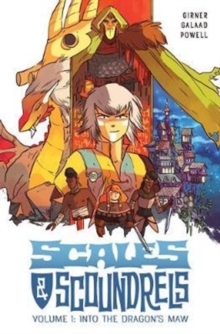 Into the Dragon's Maw
1534304827 / 9781534304826
128 pages : chiefly illustrations (colour).
It's hard to make an honest living in a land brimmingwith magic and mystery, and treasure hunter Luvander is tired of being apenniless adventurer.
Ever in search of gold and glory, she sets off for afabled dungeon "the Dragon's Maw", an ancient labyrinth, at the bottom of whichslumber endless wealth...or certain doom!
Aloner by trade, Luvander is forced to team up with a team of scragglyadventurers, each hoping to find a treasure of their own in the forbidden tomb.:there is Prince Aki, of the Scarlet Sands Empire, anxious for first taste ofadventure yet blind to the consequences. hHis royal Shadow and bodyguard, Koro,whose very honor hangs in the balance of her prince's success. And Dorma Iron, astocky young dwarf whose journey will take her deeper into the darkness than sheever wished to tread.
For these scruffyheroes, what starts out as a road to riches becomes the first step on an epicjourney to destiny, for Luvander holds a secret in her heart that will shatterthe chains of fate, and bring light to a world encroached upon by an ancientdarkness. Writer SEBASTIAN GIRNER (SHIRTLESSBEAR-FIGHTER!) and artist GALAAD are proud to present SCALES & SCOUNDRELS,an exciting new fantasy adventure from Image Comics, for scoundrels of allages!Collecting SCALES & SCOUNDRELS#1-5
BIC:
YFW Comic strip fiction / graphic novels (Children's / Teenage)
Title Unavailable: Out of Print