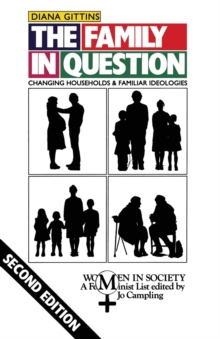 The Family in Question : Changing Households and Familiar Ideologies (2nd ed. 1993)
0333545702 / 9780333545706
Usually dispatched within 2 weeks
140 x 216 mm, 288 grams 208 pages, X, 208 p.
After a decade of Thatcherism, rising illegitimacy and the moral panic over child sexual abuse, the family is more of a political issue than ever.
But is it 'the family' that is in crisis, or family ideology?
In this revised edition of an important and controversial book, Diana Gittins adds to a broad range of historical, anthropological and feminist evidence, a new chapter on child sexual abuse.
BIC:
JFFK Feminism & feminist theory, JHBK Sociology: family & relationships, JKSB Welfare & benefit systems