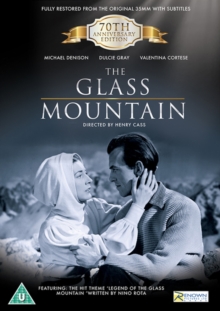 DVD (DVD / 70th Anniversary Edition)
(U) Universal, suitable for all.
British romantic drama. When RAF pilot Richard Wilder (Michael Denison) is shot down over the Italian Alps during WWII, he is rescued and nursed back to health by the beautiful Italian partisan Alida (Valentina Cortese).
During his recuperation she tells him the legend of the Glass Mountain and he makes plans to return home and turn the fable into an opera starring the great baritone Tito Gobbi (himself).
While the opera is nearing its opening night, Wilder finds himself torn between the love of his doting wife Anne (Dulcie Gray), and that of the equally devoted Alida.