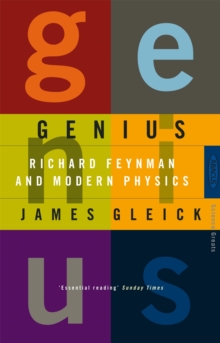 Genius
0349105324 / 9780349105321
Stock expected by 17/07/2020
20 cm 544 p., [16] p. of plates : ill.
Reprint. Originally published: London: Little, Brown, 1992.
For nearly 50 years, until his death in 1988, Richard Feynman's work lay at the heart of the development of modern physics.
Always controversial, Feynman was the key physicist from his days as part of the A-bomb-making team at Los Alamos in the early 1940s, until his discovery of the reason for the Challenger space shuttle disaster 40 years later.
The book combines biography with an accessible account of his thought and its context.
BIC:
1KBB USA, 3JJG c 1918 to c 1939 (Inter-war period), 3JJH c 1939 to c 1945 (including WW2), 3JJP c 1945 to c 2000 (Post-war period), BG Biography: general, PD Science: general issues, PH Physics