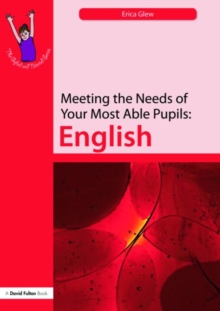 1843122618 / 9781843122616
Usually dispatched within 4 weeks
"Meeting the Needs of Your Most Able Pupils in English" is a concise and handy text providing specific guidance on a variety of issues essential for teaching gifted students in English.
This useful book guides the teacher from recognising high ability and multiple intelligences, through to planning, differentiation and extension/enrichment in English and support for more able pupils with learning difficulties (dyslexia, ADHD, sensory impairment).
It also covers assistance beyond the classroom: homework, visits, residentials, competitions, summer schools, masterclasses, links with universities, businesses and other organisations.
Teachers will benefit from this books' help with their questioning skills, their recording and assessment processes. "Meeting the Needs of Your Most Able Pupils in English" features comprehensive appendices and an accompanying CD with: useful contacts and resources lesson plans liaison sheets for teaching assistants homework activities monitoring sheets.
This is an ideal text for secondary teachers, subject heads of departments, 'Gifted and Talented' co-ordinators, SENCos and LEA advisers.
BIC:
JNSP Teaching of gifted students, JNU Teaching of a specific subject, YQC Educational: English language & literacy