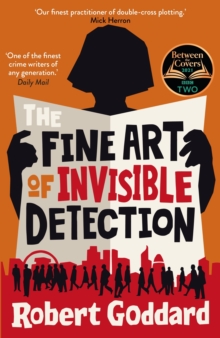 The fine art of invisible detection
0552172626 / 9780552172622
Reprint. Originally published: 2020.
The no. 1 ebook from the Sunday Times bestseller'He's the high priest of plot ... deftly woven, but also beautifully written ... I loved it.' Mel Giedroyc'One of the finest crime writers of any generation' Daily MailUmiko Wada has recently had quite enough excitement in her life.
With her husband recently murdered and a mother who seems to want her married again before his body is cold, she just wants to keep her head down. As a secretary to a private detective, her life is pleasingly uncomplicated, filled with coffee runs, diary management and paperwork. That is, until her boss takes on a new case. A case which turns out to be dangerous enough to get him killed.
A case which means Wada will have to leave Japan for the first time and travel to London. Following the only lead she has, Wada quickly realises that being a detective isn't as easy as the television makes out. And that there's a reason why secrets stay buried for a long time. Because people want them to stay secret. And they're prepared to do very bad things to keep them that way... What readers are saying:***** 'Guaranteed and satisfying escapism'***** 'Edge-of-the-seat stuff'***** 'The master of twists and suspense ... sublime'
BIC: