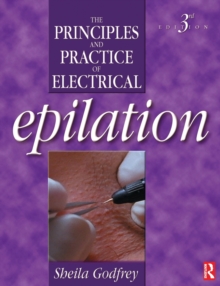 The principles and practice of electrical epilation (3rd ed)
0750652268 / 9780750652261
Completely revised and updated<p/>Hugely successful previous edition<p/>Invaluable for students and practitioners alike!
Written for the practising electrolysist and student, "The Principles and Practice of Electrical Epilation" covers all aspects of electro-epilation and takes into account recent changes and advances in training and technology during the past decade.
This new edition brings these changes into focus. The topics covered in the third edition of this book include: improved standards of training; the Blend technique of electro-epilation; the development of pre-sterilized disposable needles; training; and, health and safety at work.
A knowledge of endocrinology, the structure and growth cycle of hair, the skin, hygiene, electricity and basic first aid is essential to an understanding of why hair growth occurs, and this problem - which causes distress to very many people - can be treated both safely and efficiently.
The book covers all these topics, and also gives advice on how to set up your own practice.
This book is completely revised and updated from the hugely successful previous edition.
It is invaluable for students and practitioners alike!
BIC: