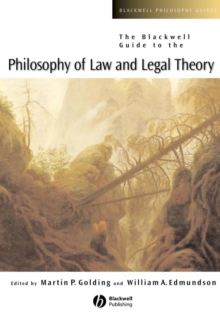 The Blackwell guide to the philosophy of law and legal theory
0631228322 / 9780631228325
postgraduate Learn More
research & professional
undergraduate
Written by an international assembly of distinguished philosophers and legal theorists, The Blackwell Guide to the Philosophy of Law and Legal Theory creates a groundbreaking student resource in critical essays on the central themes and issues of the philosophy of law today.
Focusing and advancing key arguments throughout, each of the 23 essays incorporates essential background material serving to clarify the history and logic of the relevant topic.
Topics include legal positivism, natural law theory, critical legal theory, American legal realism, feminist legal theory, criminal law, contract law, tort theory, evidence, obligation, theories of rights, punishment, legal reasoning, objectivity, theories of law, continental perspectives on law, and many others.
This volume is a handy guide to the state of play in contemporary philosophy of law and legal theory, and is suitable as a primary or secondary text for undergraduate and postgraduate courses in moral philosophy, political philosophy, law, legal philosophy, political science, political theory, or government.
BIC:
HPQ Ethics & moral philosophy, HPS Social & political philosophy, LAB Jurisprudence & philosophy of law