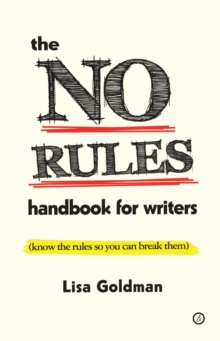 The no rules handbook for writers : (know the rules so you can break them)
1849431116 / 9781849431118
Shortlisted as one of The Stage's top 10 training books of 2012The No Rules Handbook for Writers is a timely, creative and refreshing antidote to prescriptive guides for writers.
It will inspire playwrights, screenwriters and novelists; offer fresh insights toteachers, editors, dramaturgs, directors and producers. Lisa Goldman takes 40 established conventions of creative writing.
She explores why these rules persist, how to master them, bend or break them and why the most important rules to overturn are your own.
The book weaves together industry experiences, psychological observations and inspirational tips.
With practical advice from 40 rule-breaking writers:Hassan Abdulrazzak, Oladipo Agboluaje, Ronan Bennett, Sita Bramachari, Trevor Byrne, Anthony Cartwright, Matthew Greenhalgh, Tanika Gupta, Neil Hunter, M.J.
Hyland, Gurpreet Kaur Bhatti, Dennis Kelly, Bryony Lavery, Chris Paling, Stacy Makishi, Neel Mukherjee, Hattie Naylor, Anthony Neilson, Kim Noble, Tom Palmer, Lucy Prebble, Philip Ridley, Paul Sirett, Edmund White, Roy Williams. The No Rules Handbook for Writers will be a valuable read for anyone curious about the craft, context and process of writing.
BIC: