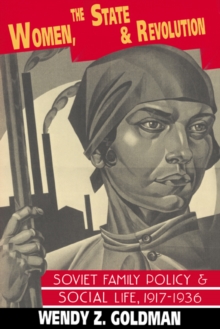 Women, the state and revolution : Soviet family policy and social life, 1917-1936
0521458161 / 9780521458160
research & professional Learn More
academic/professional/technical
Reprint. Transferred to digital printing.
When the Bolsheviks came to power in 1917, they believed that under socialism the family would 'wither away.' They envisioned a society in which communal dining halls, daycare centres, and public laundries would replace the unpaid labour of women in the home.
Yet by 1936 legislation designed to liberate women from their legal and economic dependence had given way to increasingly conservative solutions aimed at strengthening traditional family ties and women's reproductive role.
This book explains the reversal, focusing on how women, peasants, and orphans responded to Bolshevik attempts to remake the family, and how their opinions and experiences in turn were used by the state to meet its own needs.
BIC:
1DVU Former Soviet Union, USSR (Europe), 3JJ 20th century, HBJD European history, HBLW 20th century history: c 1900 to c 2000, JFFK Feminism & feminist theory