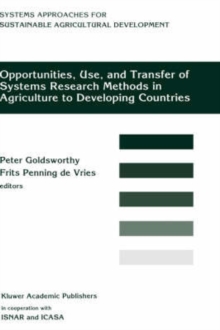 Opportunities, Use, And Transfer Of Systems Research Methods In Agriculture To Developing Countries : Proceedings of an international workshop on systems research methods in agriculture in developing (1994 ed.)
0792332059 / 9780792332053
Usually dispatched within 4 weeks
155 x 235 mm, 1570 grams 367 pages, XIII, 367 p.
Professional & Vocational Learn More
Postgraduate, Research & Scholarly
In December 1993, ISNAR, in collaboration with International Consortium for Application of Systems Approaches, organized a three-day workshop on systems approaches and -modelling for agricultural development.
Sponsored by the Dutch Ministry for Development Cooperation, the workshop was attended by participants from 12 national agricultural research systems (NARS), nine international agricul tural research centers (IARCs), and five advanced research organizations (AROs).
Although application of systems approaches in agricultural research and resource management is a rather new field, there is already increasing demand for implemen tation of these approaches.
This will require a critical mass of specialists in the NARS and IARCs.
Before this critical mass can be obtained, however, the experience that has been gained in this area needs to be evaluated, further possibilities need to be explored, and new objectives and targets need to be set.
This book, which contains the papers presented at the workshop, assesses the state of the art of systems approaches in agricultural research, resource management, and rural planning.
It also gives an impression of the evolution of this interdisciplinary field and its use in national and international research centers.
Another, less tangible, outcome of the workshop was its contribution toward strengthening the network of NARS, IARCs, and AROs.
It gave participants and organizers a chance to develop contacts, and provided an opportunity to make the first proposals for collaborative programs.
Special thanks are due to Peter Goldsworthy and Luc Boerboom for their crucial role in making the workshop a success in this regard.
BIC:
* Variable discounts between 0% and 10% are applied to items where BBfS cannot determine exact discounts from suppliers.
Other Formats