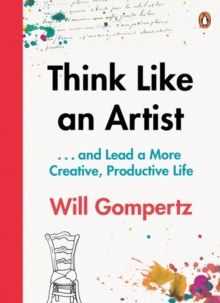 Think like an artist ... and lead a more creative, productive life
0241970806 / 9780241970805
18 cm 207 pages : illustrations (black and white, and colour)
Plates in concertina format incorporated into back cover.
Think Like an Artist by BBC Arts editor Will Gompertz - wisdom and smart thinking from Da Vinci to Ai WeiweiWhy do some people seem to find it easy to come up with fresh, brilliant ideas? And how do they turn them into something worthwhile?After spending years getting up close and personal with some of the world's greatest creative thinkers, the BBC's Arts Editor Will Gompertz has discovered a handful of traits that are common to them all.
Basic practices and processes that allow their talents to flourish, and which we can adopt - no matter what we do - to help us achieve extraordinary things too.
It's time to Think Like An Artist and ... Become Seriously Curious(Caravaggio's discovery of optical lenses changed art for ever.)Think Big Picture and Fine Detail(Turner transformed a masterpiece with a tiny dab of red paint.)And realize ...
It's Nearly Always Plan B(Mondrian spent years painting trees before becoming a master of abstraction.)'Will Gompertz is the best teacher you never had' Guardian
BIC:
AC History of art / art & design styles, VSP Popular psychology