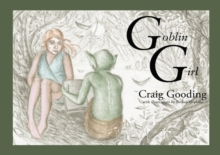 Goblin girl
1780883633 / 9781780883632
21 x 30 cm 31 pages : chiefly illustrations (black and white)
Goblin Girl tells the story of a young girl who is separated from her parents and discovered by a mythical creature, who raises her as his own.
Wonderfully atmospheric verse leads the reader through this coming-of-age journey as the girl returns to her village as Queen of the Faeries, determined to bring man and fairy folk back together in harmony. Beautifully detailed and evocative drawings are on every page of this enchanting, timeless fairytale, which will stay with readers and return whenever they take a stroll through a dark forest.
The story also touches on important themes in society today, underlining the importance of cultivating our environment. "A crumbling old well in the grounds of my house in France inspired me; no matter how often I tell my children to stay away, they are always drawn to peer into its mysterious gloom!" says Craig, who also drew inspiration from Neil Gaiman's Coraline.
BIC: