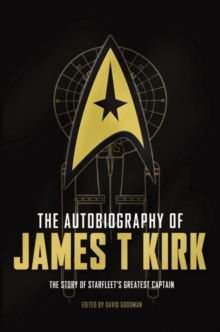 The autobiography of James T. Kirk : the story of Starfleet's greatest captain
1783297484 / 9781783297481
20 cm 272 pages, 8 unnumbered pages of plates : illustrations (colour)
Reprint. Originally published: 2015.
The Autobiography of James T. Kirk chronicles the greatest Starfleet captain's life (2233-2293), in his own words.
From his birth on the U.S.S. Kelvin, his youth spent on Tarsus IV, his time in the Starfleet Academy, his meteoric raise through the ranks of Starfleet, and his illustrious career at the helm of the Enterprise, this in-world memoir uncovers Captain Kirk in a way Star Trek fans have never seen.
BIC:
APF Films, cinema, APT Television, BGF Biography: arts & entertainment