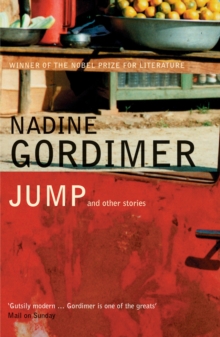 Jump and other stories
0747511896 / 9780747511892
Reprint. Originally published: 1991.
Author won Nobel Prize for Literature in 1991
Through Nadine Gordimer's magnificently crafted stories a reader embarks on journeys across cultures, from the war in Mozambique to the beaches of the South of France, from the affluent suburbs of Johannesburg to the back streets of London, over political territories from the Underground to revolution.
Many of the settings are South African, yet such a variety of voices is heard: the child fleeing from the civil war through the wild animals of the Kruger National Park, the carefree teenager who falls innocently in love with a terrorist, the middle-aged cynic who puts his find of a valuable ring on a beach to a strange purpose.
There is a grim fairy tale about total security systems in the happily-ever-after, the parable of a Jewish watch maker emigrating from pogroms to a country where others are being persecuted, the rites of passage into manhood by parachute and betrayal, and the ironies of an opulent "safe house" love affair.
BIC:
FA Modern & contemporary fiction (post c 1945), FYB Short stories