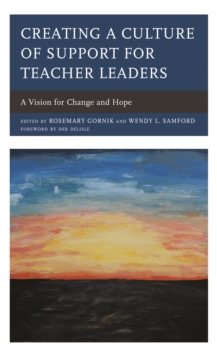 Creating a culture of support for teacher leaders : a vision for change and hope
1475839995 / 9781475839999
Within the pages of this book you will meet six, K-12, practicing, public school administrators, and two university instructors who give concise study-and-practice guidance on two aims; 1) to build the awareness and capabilities to become a lead professional for democratic ways of living, and 2) to develop the school culture needed to support this teacher leadership.
Teacher leadership is not in addition to the many initiatives administrators face each day.
Rather, you will read stories about teacher leadership incorporated into the initiatives that already exist.
By distributing leadership, administrators organically utilize the gifts and talents that individual teachers already possess defying prescripted roles and specific job descriptions.
A key feature in this text is its problem-solving orientation, and the interplay among teaching/learning/leading research that raises critical questions for professionals ready to understand the nuances of educational growth in societies with democratic ideals.
In spite of the political demands for efficiency and accountability, six administrators worked with teacher leaders in different contexts to develop and exercise the wisdom, which honors the democratic ideals upon which our society was built.
BIC: