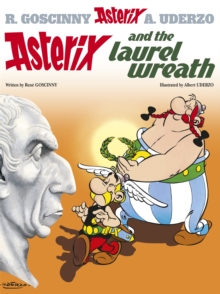 Asterix and the laurel wreath : Goscinny and Uderzo present an Asterix adventure (Rev. ed)
Part of the Asterix series
0752866362 / 9780752866369
Previous ed. of this translation: Leicester: Brockhampton, 1974.
Asterix is the highest-selling book series in the world. Worldwide sales now exceed 320,000,000, outstripping even J K Rowling. Asterix has been translated into 107 languages and dialects. 11,000 web sites devoted to Asterix. Combined UK sales of the last 5 books - 2.2 million copies.
Gaul was divided into three parts. No, four parts - for one small village of indomitable Gauls still held out against the Roman invaders.
BOOK 18 Chief Vitalstatistix makes a rash bet with his brother-in-law, the infuriating show-off Homeopathix, whom he invites to dine on a stew seasoned with Caesar's laurel wreath.
It is up to Aserix and Obelix, of course, to go to Rome and acquire the wreath.
BIC:
5AH Interest age: from c 7 years, YFW Comic strip fiction / graphic novels (Children's / Teenage)