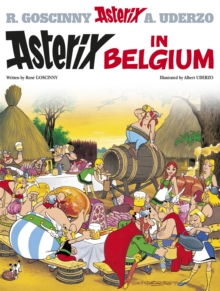 Asterix in Belgium
Part of the Asterix series
0752866494 / 9780752866499
30 cm 48 p. : chiefly col. ill.
Previous ed. of this translation: London: Hodder Dargaud, 1980.
Asterix is the highest-selling book series in the world. Worldwide sales now exceed 320,000,000, outstripping even J K Rowling. Asterix has been translated into 107 languages and dialects. 11,000 web sites devoted to Asterix. Combined UK sales of the last 5 books - 2.2 million copies.
Gaul was divided into three parts. No, four parts - for one small village of indomitable Gauls still held out against the Roman invaders.
BOOK 24 Chief Vitalstatistix of the little Gaulish village holding out against the Roman legions is horrified to hear that Caesar has called the Belgian tribes, not the Gauls, the bravest he knows.
With Asterix and Obelix, the chief goes off to confront the Belgians - who turn out to be very like the Gauls.
BIC:
5AH Interest age: from c 7 years, YFW Comic strip fiction / graphic novels (Children's / Teenage)