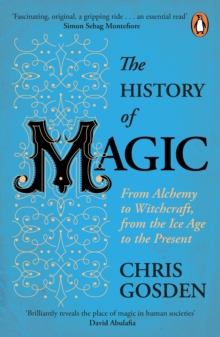 The history of magic : from alchemy to witchcraft, from the Ice Age to the present
0241979668 / 9780241979662
Reprint. Originally published: UK: Viking, 2020.
A Telegraph Book of the Year A remarkable, unprecedented account of the role of magic in cultures both ancient and modern -- from the first known horoscope to the power of tattoos. 'Fascinating, original, excellent' Simon Sebag Montefiore______________________Three great strands of practice and belief run through human history: science, religion and magic.
But magic - the idea that we have a connection with the universe - has developed a bad reputation. It has been with us for millennia - from the curses and charms of ancient Greek, Roman and Jewish magic, to the shamanistic traditions of Eurasia, indigenous America and Africa, and even quantum physics today.
Even today seventy-five per cent of the Western world holds some belief in magic, whether snapping wishbones, buying lottery tickets or giving names to inanimate objects. Drawing on his decades of research, with incredible breadth and authority, Professor Chris Gosden provides a timely history of human thought and the role it has played in shaping civilization, and how we might use magic to rethink our understanding of the world. ______________________'This is an extraordinary work of learning, written with an exhilarating lightness of touch . . . It is essential reading.' Francis Pryor, author of Britain BC, Britain AD and The Fens'Without an unfascinating page' Scotsman'Chris Gosden shows how magic explores the connections between human beings and the universe in ways different from religion or science, yet deserving of respect' Professor John Barton, author of A History of The Bible
BIC:
HBTB Social & cultural history, JFCX History of ideas, PDX History of science, VXWM Magic, spells & alchemy