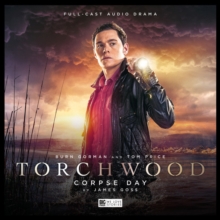 Torchwood: 15 - Corpse Day
Part of the Torchwood series
1785756397 / 9781785756399
The hit BBC series is back! Big Finish bring immortal Time Agent Captain Jack Harkness and his worldwide Torchwood colleagues back to audio life for a fresh run of six new audio dramas.
Glynn Lewis is just putting up a spice rack when there's a knock at the door.
A knock that will bring a brutal end to his perfect family.
PC Andy is very excited. It's Corpse Day - the day when the local constabulary get help on dead cases from Torchwood.
This year, he's volunteered to act as liaison, and he knows he's going to have a brilliant time.
For Dr Owen Harper, today's just like any other. There'll be bloodshed, screaming and murder. At the end of it all, he doesn't care. After all, life's just for the living, and he's long dead.
Writer James Goss has recently published Doctor Who - The Pirate Planet, an adaptation of a 1970s TV story approved by the Douglas Adams Estate.
Across the range, John Barrowman, Eve Myles, Kai Owen and Gareth David-Lloyd have reprised the characters who starred in four years of hit Doctor Who spin-off Torchwood, screened around the world - Burn Gorman is the final member of the cast to return to his role. CAST: Burn Gorman (Owen Harper), Tom Price (Andy Davidson), Hannah Maddox (Angela), Alex Tregear (Jan), Nigel Betts (Glynn), Oliver Mason (Sonny), Rhian Blundell (Marta), Aly Cruickshank(Desk Sergeant), Charlotte O'Leary (Waitress).
NOTE: Torchwood contains adult material and may not be suitable for younger listeners.
BIC: