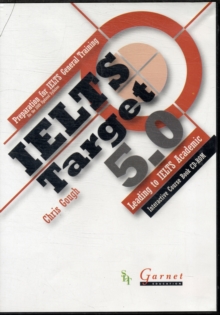 IELTS Target 5.0 Preparation for IELTS General Training - Leading to IELTS Academic (Teacher's ed)
185964578X / 9781859645789
Usually dispatched within 2 weeks
ELT / TEFL (Teaching of English as a foreign language) Learn More
IELTS Target 5.0: Preparation for IELTS General Training - Leading to IELTS Academic A preparation course for the IELTS General Training examination with bridging to IELTS Academic.
IELTS Target 5.0 addresses the needs of students who are entering IELTS study between Band 3 (extremely limited user) and Band 4 (limited user).
The General Training Module of IELTS has been chosen, along with five bridging units to IELTS Academic, as the most suitable for students at this level.
Such students might need to raise their IELTS score to: * satisfy criteria set by the institution in which they study * work towards a score of 5.0 - required for many non-academic training courses * lay the foundation for further study of the Academic Module with a view to university entrance.
IELTS Target 5.0 acknowledges the very special requirements of such students and focuses on guidance, scaffolding and analysis of typical errors.
Model answers are used frequently to provide guidance, and tasks have been devised to focus attention on the content of good and poor model answers.
Grammar is dealt with when it is integral to the exam skill, for example, the use of the passive as part of a writing task. Vocabulary has been carefully selected to focus on items that are core to IELTS and essential for use at the level.
IELTS Target 5.0 consists of four sections, each containing five core units plus a review unit.
Each core unit includes consolidation and mini practice activities.
Further complete mock exams are included as supplementary material.
Each section comprises 60 hours of teaching, a total of 240 hours.
Key Features * Comprehensive 240-hour course * IELTS General Training ideal for students on lower band scores * Provides foundation for further General Training or Academic study * Four sections provide flexibility of use * Clear, scaffolded activities * Simplified and authentic exam work * Focus on real student needs * Includes Interactive Course Book CD-ROM See accompanying combined Course Book and Workbook and Teacher's Book.
BIC: