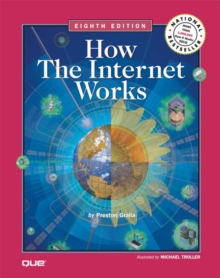 How the Internet works (8th ed)
0789736268 / 9780789736260
26 cm xiii, 416 p. : col. ill.
Detailed explanations walk you through the technology.
The Internet has changed the world... and, with everything from blogs to podcasts, Internet phones to video, it's still changing the world.
Now, it's easy to understand how it all works! This book's big, brilliant, full-color illustrations and clear explanations make it all incredibly simple!
You can discover how the internet really works... its amazingly easy! This new edition has been completely updated for today's hottest Internet technologies, Web connections, hardware, communications and entertainment services, and much more!
It shows you how the Internet can deliver any kind of information, anywhere: web pages, email, music, video, phone calls, and more!
You can understand the most exciting new Internet technologies, from blogs and podcasting to wikis and BitTorrent.
You can discover how your connection to the Internet works... wireless, cable modem, DSL, even cellphones. You can go behind the scenes with today's most sophisticated websites, applications, and services.
You can also protect yourself from the latest Internet dangers, including phishing, web surveillance, and wireless hacking.Preston Gralla is the award-winning author of more than 30 books, including "How the Internet Works", "Complete Idiot's Guide to Internet Privacy and Security", "Complete Idiot's Guide to Protecting Your Child Online", and "How Wireless Works".
He has written frequently about security issues, computer technology, the Internet, and has been a columnist for many magazines, websites and newspapers.
BIC: