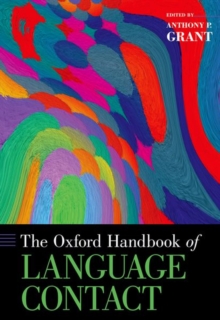 The Oxford handbook of language contact
0199945098 / 9780199945092
Every language has been influenced in some way by other languages. In many cases, this influence is reflected in words which have been absorbed from other languages as the names for newer items or ideas, such as perestroika, manga, or intifada (from Russian, Japanese, and Arabic respectively). In other cases, the influence of other languages goes deeper, and includes the addition of new sounds, grammatical forms, and idioms to the pre-existing language. Forexample, English's structure has been shaped in such a way by the effects of Norse, French, Latin, and Celtic-though English is not alone in its openness to these influences. Any features can potentially be transferred from one language to another if the sociolinguistic and structural circumstances allowfor it.
Further, new languages-pidgins, creoles, and mixed languages-can come into being as the result of language contact. In thirty-three chapters, The Oxford Handbook of Language Contact examines the various forms of contact-induced linguistic change and the levels of language which have provided instances of these influences.
In addition, it provides accounts of how language contact has affected some twenty languages, spoken and signed, from all parts of the world.
Chapters are written by experts and native-speakers from years of research and fieldwork.
Ultimately, this Handbook provides anauthoritative account of the possibilities and products of contact-induced linguistic change.
BIC: