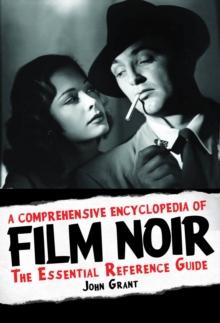 A comprehensive encyclopedia of film noir : the essential reference guide
1557838313 / 9781557838315
Usually dispatched within 2 weeks
26 cm vii, 765 pages, 56 unnumbered pages of plates : illustrations (black and white, and colour)
Featuring rumpled PIs shyster lawyers corrupt politicians double-crossers femmes fatales and of course losers who find themselves down on their luck yet again film noir is a perennially popular cinematic genre.
This extensive encyclopedia describes movies from noir's earliest days a and even before looking at some of noir's ancestors in US and European cinema a as well as noir's more recent offshoots from neonoirs to erotic thrillers.
Entries are arranged alphabetically covering movies from all over the world a from every continent save Antarctica a with briefer details provided for several hundred additional movies within those entries.
A copious appendix contains filmographies of prominent directors actors and writers.THWith coverage of blockbusters and program fillers from EGoing StraightE (US 1916) to EBroken CityE (US 2013) via ENora InuE (Japan 1949) EO Anthropos tou TrainouE (Greece 1958) EEl Less Wal KilabE (Egypt 1962) EReportaje a la MuerteE (Peru 1993) EZiftE (Bulgaria 2008) and thousands more EA Comprehensive Encyclopedia of Film NoirE is an engrossing and essential reference work that should be on the shelves of every cinephile.
BIC: