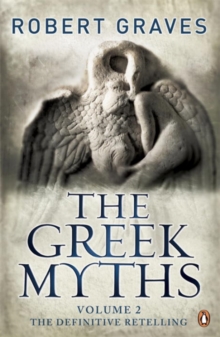 024195276X / 9780241952764
Usually dispatched within 2 weeks
Reprint. Originally published: London: Penguin, 1960.
Classicist and poet Robert Graves's superb two-volume retelling of the Greek myths for a modern audience has been regarded for over fifty years as the definitive version.
Drawing on the entire canon of ancient literature, Graves weaves together all the elements of every myth into a single harmonious narrative.
Ideal for the first time reader, it is also accompanied by commentaries, cross-references, variants and explanations that make it equally valuable as a work of scholarly reference.
The result is a dazzling and comprehensive account of the gods and monsters, the heroic feats and appalling tragedies of ancient Greece, many of them among the greatest stories ever told. In this second volume, Graves recounts the tragedies of Oedipus, Iphigineia and Medea, the labours of Hercules, the voyages of Odysseus, the adventures of Jason and the Argonauts, the epic story of the Trojan War, as well as many, many others.
BIC:
1QDAG Ancient Greece, FQ Myth & legend told as fiction, HRKP3 Ancient Greek religion & mythology, JFHF Folklore, myths & legends
* Variable discounts between 0% and 15% are applied to items where BBfS cannot determine exact discounts from suppliers.