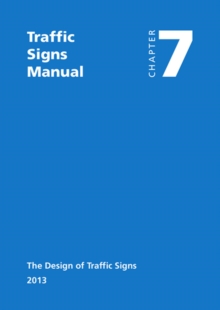 Traffic signs manual : Chapter 7: The design of traffic signs (4th ed. 2013)
0115532226 / 9780115532221
The Traffic Signs Manual contains advice to traffic authorities on the correct use of signs and road markings, in the discharge of their duties under section 122 of the Road Traffic Regulation Act 1984.
Mandatory requirements are set out in the current version of the Traffic Signs Regulations and General Directions.
The Manual is applicable in England, Wales, Scotland and Northern Ireland.
Chapter 7 of the Traffic Signs Manual reflects the Traffic Signs Regulations and General Directions (TSRGD) which came into force in January 2003 and includes a number of revisions to the text from the previous edition.
The aim of the title is to ensure that the correct signs are used (for any given circumstances), in the right position and at the appropriate size, to achieve a consistent approach across the country.
Key features include: explanation of colour coding principles; sign design rules for all sign types; comprehensive index
BIC:
1DBK United Kingdom, Great Britain, KNG Transport industries
* Variable discounts between 0% and 15% are applied to items where BBfS cannot determine exact discounts from suppliers.
Other Formats