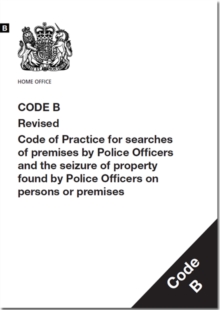 Police and Criminal Evidence Act 1984 : code B: revised code of practice for searches of premises by police officers and the seizure of property found by police officers on persons or premises (Revised edition, 2014)
0113413653 / 9780113413652
The Police and Criminal Evidence Act (PACE) and its Codes of Practice are a vital part of the legislative framework that lays out police powers for combating crime.
Code B governs the exercise by police of statutory powers of entry to search premises and to seize and retain property found on premises and persons.
This Code of Practice must be readily available at all police stations for consultation by police officers, police staff, detained persons and members of the public.
This code applies to applications for warrants made after 00.00 on 27 October 2013
BIC:
1DBK United Kingdom, Great Britain, LN Laws of Specific jurisdictions