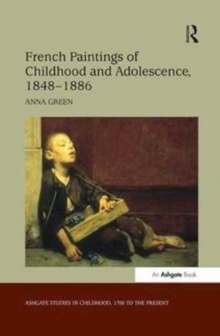 French Paintings of Childhood and Adolescence, 1848-1886
113827576X / 9781138275768
Usually dispatched within 2 weeks
156 x 234 mm, 608 grams 342 pages
The premise of Anna Green's timely and original book, is that nineteenth-century representations of childhood and adolescence-in paintings, but also in other forms of visual culture and in diverse written discourses of the period-are critical for understanding modernity.
Whilst such well-worn signifiers for modernity as the city, the dandy and the prostitute have been well mined, childhood and adolescence have not.
Paintings of the young produced in France from 1848 to 1886, Green contends, inform not only our understanding of modern life but also our perception of modernist or avant-garde painting. Figuring largely are Manet and the Impressionists, as well as a gamut of more traditional painters of children who are crucial in providing context for the avant garde. Because modernity is an essentially urban phenomenon, Green's focus is primarily on the city, usually Parisian, child.
The painted youth of her study are organized initially by class and gender.
Then the chapters are structured according to themes (parent-child relations, modes of discipline, work, education, and play, the spectacle, sexuality) that straddle the congruences among the book's triple trajectory: the young, their modernist representations, and the experience of modernity.
Green's interdisciplinary approach ensures that this book will be of interest not only to art historians but to all those concerned with the cultural and social history of childhood.
BIC:
AB The arts: general issues, ACV History of art & design styles: c 1800 to c 1900, DSBF Literary studies: c 1800 to c 1900 , HBTB Social & cultural history, JFF Social issues & processes
* Variable discounts between 0% and 10% are applied to items where BBfS cannot determine exact discounts from suppliers.
Other Formats